The LandLabs are a tool to support knowledge transfer and activate regional landscape resilience solutions in 5 selected Mediterranean regions. 
Landlabs are context specific knowledge transfer and engagement programs for farmers and foresters in selected regions that represent important areas for climate change impacts.
To do so, the LandLabs will carry out different activities, such as events, workshops, field trips, and showrooms. In this sense, the development of the LandLabs will allow stakeholders to identify and adapt the best solutions for each region. Because the LandLabs have a specific regional focus and the activites will be in-presence and in local language, we suggest you join the LandLab that is closer to you.
LandLabs are part of the LandNet; join a LandLab by filling in the LandNet registration form. 
The LandLabs will be developed in 5 Mediterranean regions that are highly exposed to climate change hazard occurrence: Sardinia (Italy), Catalonia (Spain), Peloponnese (Greece), Cyprus and Regiao Norte (Portugal).
While these regions share the threats posed by typical Mediterranean hazards aggravated by climate change – especially wildfires and droughts –  each region has specific social needs and agricultural and forestry challenges that call for tailored solutions.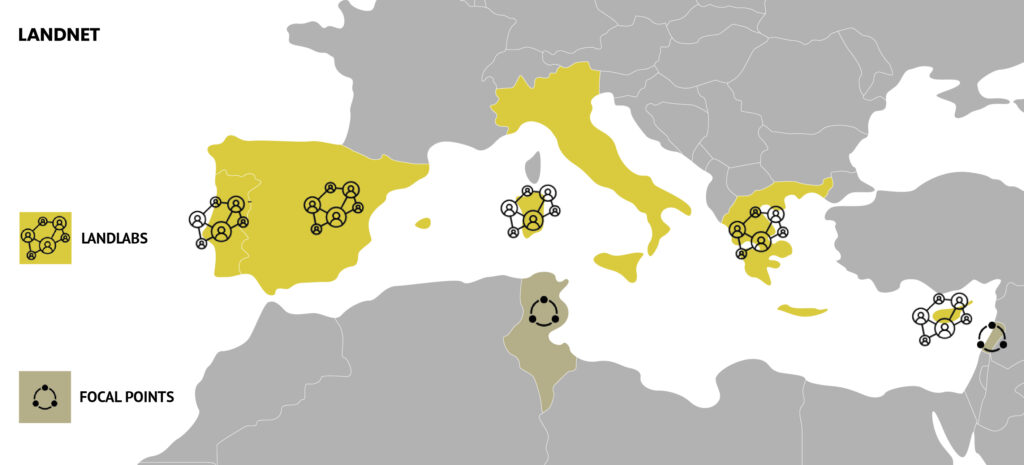 Joining the LandLab, you will:
actively participate in the LandLabs: 5 laboratories that allow you to get to know other subjects in the agricultural and forestry sector, and exchange with them knowledge and good practices developed in the area to deal with the great challenges posed by climate change;
have the opportunity to personally contribute to new strategies for managing these challenges;
participate in Showrooms, where you will have the chance to know the ResAlliance project and get information on emerging results;
3 month MOOC in which effective and operational training on the issues of landscape resilience in the field of agriculture and forestry will be guaranteed;

Receive the project Newsletter in which the information materials that will be created during the project are shared, thanks to the exchange of knowledge that will take place in the 5 project countries.
LandLabs are part of the LandNet; join a LandLab by filling in the LandNet registration form.